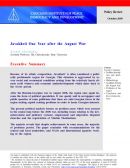 Date: October 2009
Title: Javakheti One Year after the August War
Author: Archil Abashidze, Assistant Professor, Ilia Chavchavadze State University
Donor: The paper is published with financial support of theThink Tank Fund of the Open Society Institute - Budapest. The opinions it contains are solely those of the author and do not reflect the position of the OSI TTF.
Languages: Georgian, English
Pages: 10 (Georgian), 11 (English)
© CIPDD







Executive Summary
Because of its ethnic composition, Javakheti1 is often considered a politically problematic region for Georgia. This situation is aggravated by severe social and economical conditions arising from the relatively harsh climate (cold winters) and economic underdevelopment which dates back to
the Soviet period.
After the Russian-Georgian war in August 2008, the region once again became the focus of political speculation. It was openly said in newspapers and public speeches of some politicians that there are anti-Georgian forces in the region seeking exploit existing problems in order to harm Georgian interests.
The present political analysis focuses on problem areas which were present in the region long before the 2008 war, including issues relating to the law-enforcement and judiciary systems; employment and migration; disputed churches and the repatriation of Muslim Meskhetians.
The analysis reveals that despite achievements in some areas, the majority of problems persist. The paper concludes with recommendations for the central and local authorities, and NGOs and international agencies working in the region.
Podcast
Blog Javakheti One Year after the August War
Back..